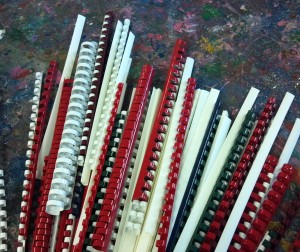 Our Mission
CReATE ON YOUR CAMPUS  (C.O.Y.C.) builds reuse habits and sensibilities with a deeper investment in the reusable resources campuses have.  We believe sustainability supports efficiency and thought-expansion to students, teachers, and administrators on participating campuses.  As Ralph Waldo Emerson once said, "Nothing in nature is exhausted in its first use."
C.O.Y.C. was inspired by CReATE STUDIO's reuse of everyday materials in a categorized fashion. Viewing potential in a broader capacity, we tracked where waste was likely to occur: school campuses.  C.O.Y.C. was piloted in 2012 as a strategic program.  Our customized system of collection and distribution fostered campus-wide reuse of supplies once thought to be waste.
About CReATE STUDIO
CReATE STUDIO is a DIY eco-art studio in Westlake Village, CA, that provides open-ended, artistic, and creative opportunities for all ages.  All creators explore and use materials that appeal to their interests, styles, and needs in a non-structured setting.  The relaxed and inspiring space lends itself to a collaborative mindset in peers and adult/child interactions.

Art is created using cast-off materials such as cardboard, old calendars, fabric, used museum brochures, corks, tissue boxes, jars, game pieces, and more.  CReATE's owner, Jemma Wildermuth, is the Founder of CReATE ON YOUR CAMPUS.  To learn more about the studio, visit createstudiofun.com.
About CReATE ON YOUR CAMPUS
CReATE ON YOUR CAMPUS (C.O.Y.C.) embraces the Girl Scout motto: "Use Resources Wisely."  When we look around and think outside the box while unpacking supply deliveries or sorting junk mail, we see materials that are great candidates for re-use in K-12th grade artistic and curriculum-based projects.
C.O.Y.C. promotes self-expression and learning in economical and ecological ways, while connecting to Common Core Standards.  After grasping the meaning of a concept taught in the classroom, each child can then use the campus resources to further demonstrate his/her understanding in a unique way.  Curriculum becomes intertwined with project-based and hands-on learning.

C.O.Y.C. originates in Southern California, yet it is suitable for schools and organizations throughout the United States.  School enrichment programs, before- and after-care organizations, Parks & Recreation Departments, The YMCA organization, and Boys & Girls Clubs can all participate in C.O.Y.C. on- and off- campus.
CReATE ON YOUR CAMPUS Board of Directors

Roanna Battocchio- V.P. Outreach
Christy Camp- Board Secretary
Michelle Garcia-V.P. Media
Terri Johanson- Board Treasurer & Chief Financial Officer
Tami Miller- V.P. Special Events
Jemma Wildermuth- Founder & President